Cleveland Electric Laboratories Advanced Technologies Group's FiberStrike® technology leads the industry in fiber optic sensor engineering, manufacturing, and application development. Also known as an FBG sensor (Fiber Bragg Grating sensor), our fiber optic sensors can measure changes in temperature, pressure, motion, vibration, acoustics, and strain. Used in fiber optic sensor systems with a portable FBG interrogator, it is flexible, scalable, and ideal for physical security, intrusion monitoring, or structural monitoring.
The Increased Reliability of a FBG Fiber Optic Sensor
FiberStrike® discrete and distributed fiber optic sensors are passive, require no electrical power, and emit no signal. Fiber optic sensors offer increased reliability over traditional electro-mechanical sensors due to their resistance to electromagnetic and radio frequency interference, lightning, and corrosion.
FiberStrike® FBG Fiber Optic Temperature Sensor / Fiber Optic Strain Sensor / Fiber Optic Pressure Sensor
Precise strain, pressure, and temperature measurements using a fiberoptic sensor can measure changes down to the picometer range. Multiple sensor types can be combined over one fiber strand with hundreds of discrete sensors.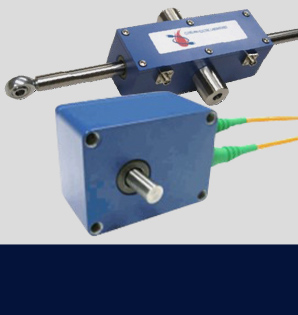 FiberStrike® Fiber Optic FBG Sensor Integration
FiberStrike® optical fiber sensors can be integrated externally into existing structures or embedded into new construction.
Precise gauge placement and orientation is essential for obtaining the data required for each specific monitoring application. Surface preparation, gauge installation, and egress routing are necessary to ensure successful test data under critical conditions. We apply a variety of gauge types including foil, free filament, semiconductor, and fiber optic, in a variety of configurations and sizes.
FiberStrike® FBG sensors go the distance. They can function over 25 kilometers from fiberoptic end to monitoring equipment with no booster amplifiers.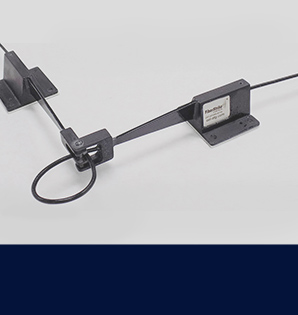 FiberStrike® Fiber Optic Sensor Products
FiberStrike® Fiber Optic Sensor Applications
Perimeter and facility physical security – a distributed fiber optic intrusion sensor system for monitoring manholes, vault covers, long perimeters and fiberoptic border security.

Structural health monitoring – building, dam, and bridge monitoring – measuring strain and temperature

Industrial health monitoring – intrusion protection as well as equipment monitoring for strain, fatigue, tension, temperature, and vibration.

Aero turbine and rotor health monitoring – fiber optic sensors to monitor temperature, component displacement, active surge control, strain, and vibration, on both rotating and static structures.

Composite materials monitoring – FBG sensors monitor the integrity of critical composite structures such as aircraft components.

Aerostructures – monitoring aircraft fuselage and wings for crack, strain, temperature, and vibration.

Pipeline leak & impact detection – acoustical sensors that monitor the flow through the pipe and detect leaks and impact events.

Traffic cabinet safety and infrastructure fiber optic cabling protection – FiberShear protects infrastructure fiber optic cabling during an accident or impact event.

Medical equipment monitoring – open/close monitoring provides intrusion protection for critical hospital areas as well as medical equipment monitoring for strain, temperature, and vibration.

Automotive EV battery monitoring and testing – monitor critical signals for battery health and driver safety with Fiber Bragg Grating sensors.

Environmental monitoring – high-accuracy, high-frequency distributed temperature sensing for hydrology, hydrogeology, and geophysics as well as fiber optic seismic sensor.
Why Choose FiberStrike® Fiber Optic Sensors for Monitoring?
Experience, reliability, and innovative sensing solutions that work and are the top reasons industrial and federal businesses choose FiberStrike®. FiberStrike® sensing components are engineered and manufactured to be lighter, more durable, and more precise. They also offer multi-faceted sensor deployment with proprietary software that can integrate Multi-Int Sensors.
Application and product development has driven FiberStrike®'s growth, resulting in the award of ten patents in Advanced Measurement and fiber-related fields. Groundbreaking sensing technologies are a product of the FiberStrike® lab, which provides solutions to difficult sensing needs.
Cleveland Electric Laboratories Advanced Technologies Group has an impressive portfolio of customers and installations. FiberStrike® has a major footprint in defense and security industries. They have worked with national security agencies and law enforcement at all levels, including federal, state, local and commercial such as A&E, Norfolk, and Southern. They are a NASA Prime Contractor through the Langley Research Center and other top clients include Boeing, Honeywell, Pratt-Whitney, Siemens, Rolls Royce, and United Technologies.
Benefits of FiberStrike® FBG sensor technology:
Distributed sensors are accurate over long distances – FiberStrike® FBG sensors go over 25 kilometers with fiberoptic end to monitoring equipment with no booster amplifiers.

Real-time, high-frequency monitoring – when continuous monitoring is required, the FiberStrike® system is the most accurate and best solution available.

The best solution for combustive environments – optical fiber sensors are EMI and EMP-resistant, are passive, and do not use electricity at the sensors, eliminating any spark issues.

Flexible and scalable – FiberStrike® products allow for system configuration for virtually any application.

Chemical, corrosion, and environmental resistance – optic fibers are corrosion- resistant and are immune to electrical interference and degradation due to chemicals or environmental factors.
Fiberoptic Intrusion Detection Systems vs Discrete Fiberoptic Sensor Systems
Two of the applications where fiberoptic sensors outperform other monitoring technologies are intrusion and discrete detection. Discrete Sensor Systems and Intrusion Detection Systems can be seamlessly deployed together to maximize monitoring and protection of assets.
Discrete FBG sensors are proven effective for monitoring structural health on multiple civil structures world-wide. The sensors are extremely sensitive and can measure movements down to 10-12 m. As many as 50 sensors may be multiplexed on a single optical fiber, facilitating ease of installation, egress routing and data management. Events for hundreds of discrete sensors may be monitored with real-time reporting using a single Fiber Bragg Grating interrogator. The properties of fiber optics allow DSS to be deployed over wide areas or long distances.
Discrete Sensor Systems (DSS) is for specific location and perimeter monitoring. Sensor types include FBG strain gauges, accelerometers, bolt tension (Brainy Bolts), position, acoustic signature, access/interlock switches, air flow and fiberoptic temperature sensors.
Intrusion Detection Systems (IDS) determines the location of attempted physical intrusions in data communication conduits or trays, thereby helping ensure information security. IDS also may be directly buried, providing the capability to determine location of pedestrian and vehicle traffic intrusion events over distances of kilometers. Intrusion event location accuracy is within a few meters of the event approximately equal to fiber optic loop length 100 for a single fiber. This accuracy applies to both communication conduits and direct burial systems. Accuracy improves with the use of multiple co-located fiber loops, virtually eliminating false alarms with CEL's embedded, advanced designs and configurations. Key features of both DSS and IDS FiberStrike® systems is the response time to an event of less than three seconds, with an average response time of 1.5 seconds.
Event alert systems and data logging are integral components of Cleveland Electric Laboratories Advanced Technologies Group's proprietary software available in the Command and Control solution. Advanced API provides a .net event output, allowing easy integration with existing C2 or C3 systems. FiberStrike® system flexibility facilitates integrating any combination of DSS and IDS into a single head-end.
For more information on a specific fiberoptic sensor application, contact Cleveland Electric Laboratories Advanced Technologies Group. Click here to start a conversation about your FBG monitoring project.