LCM 2700 Portable FBG Interrogator Brochure
FiberStrike®'s LCM-2700 series portable Fiber Bragg Grating interrogator leads the industry in FBG sensor monitoring.  This state-of-the-art FBG interrogator can monitor and measure changes in pressure, tilt, cracks, position, tension, bolt elongation, displacement, linear and rotary movement, acceleration and vibration, seismic activity, temperature, and strain. The system's rugged, portable design makes it ideal for outdoor or harsh environments where structural monitoring, physical security, or intrusion monitoring are required. Combined with FiberStrike®'s fiber optic sensors and hundreds of discrete sensors may be monitored and reported using a single FBG interrogator.
The LCM-2708 Portable FBG Interrogator
Monitor a variety of parameters via a simple optical cable connection.
Accommodate up to eight (8) channels of data and eight (8) FBG sensors per channel.
Collect data via local USB storage, Ethernet, or Wi-Fi managed by the FiberStrike GUI.
Features configurable sleep/wake settings for periodic measurement is built-in, potentially extending battery life to days or weeks.
Rely on the battery life of up to 18 hours of continuous operation via Ethernet or local USB or continuous operation via Wi-Fi.
Protected by a rugged, lightweight, waterproof carrying case with storage compartments for accessories.
IP rating of IP67 ingress protection against dust, sand, and the effects of temporary immersion against liquids.
LCM-2700 Series FBG Interrogator Specifications
| Processing and Measurement | LCM-2708 |
| --- | --- |
| Number of Optical Channels | 8 |
| Sample Speed | Up to 19.2 kHz |
| Wavelength Range | 70 nm (1515-1585 nm) |
| Wavelength Stability | 5 pm max |
| Wavelength Resolution | 1 pm |
| Dynamic Range | 4.8 nm |
| FBG Sensors per Channel | 8 |
LCM-2700 Series FBG Interrogator Mechanical, Electrical, and IP Rating Specifications
| Mechanical, Electrical, and Environmental | LCM-2708 |
| --- | --- |
| Weight (Unit only) | 8 lbs. |
| Weight (Unit w/Carrying Case) | 18 lbs. |
| Dimensions, Unit (L x W x H) | 6.7" x 3.9" x 14.2" |
| Dimensions, Carrying Case (L x W x H) | 16" x 29.9" x 8.3" |
| Communications | Ethernet or Wi-Fi |
| Optical Connector, Unit | MPO Style, Water Proof |
| Battery Life – Continuous (USB/Wi-Fi) | 30/28 Hours |
| Operating Temperature | -20/+45 °C |
| IP Rating | IP67 |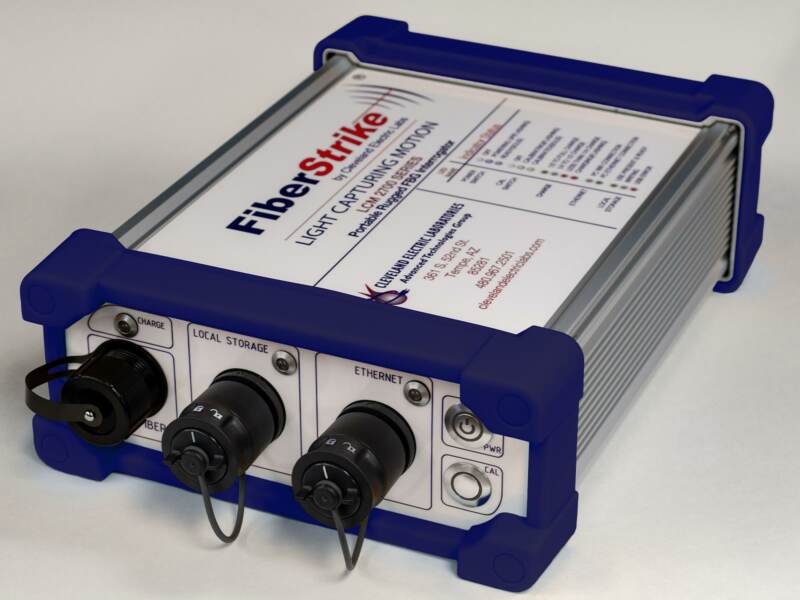 LCM-2700 Series Rugged Portable FBG Interrogator delivers real-world durability for go-anywhere use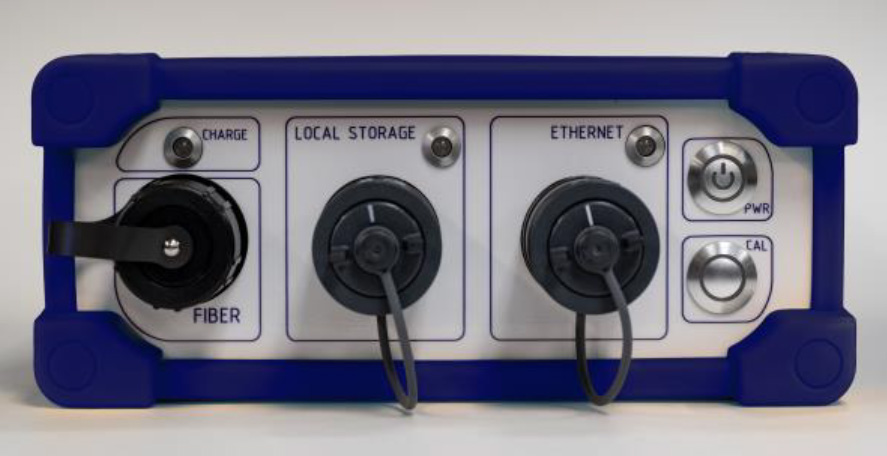 Front View: Buttons for Power and Calibration. LED Indicators display: Charge Level, Local USB Storage, and Ethernet Communication Status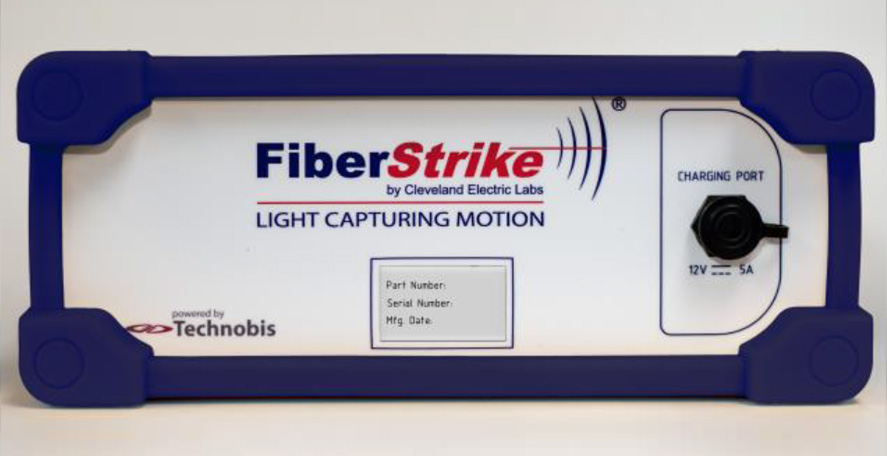 Back View; Battery charging port.
How a Fiber Bragg Grating Interrogator Works
A (FBG) Fiber Bragg Grating interrogator compares the wavelengths of light reflected from gratings that have been photo-etched into an optical fiber. An intense laser of UV light is sent into the optical fiber in a periodic pattern and the reflections from the etched Bragg gratings are then measured with a photodetector. By measuring modulations in the intensity, phase, polarization, wavelength, or transit time of light in the fiber, the sensor can monitor a wide range of conditions.  The FBG interrogator can extract a signal (channel) with a particular wavelength to measure strain, temperature, pressure, acoustics, motion, and more.
The Fiber Bragg grating, also known as a Bragg filter, is used as a passive fiber optic sensor that measures the refractive index around a certain wavelength that fulfills the Bragg condition.  The optical interrogator is the data acquisition system that reads the Fiber Bragg Grating sensors.  The fiber optic sensor system provides highly accurate, high-speed, reliable data output control with a sensing range over 25 kilometers.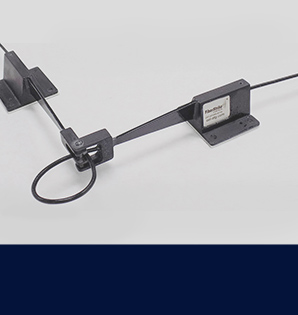 Other FiberStrike® Fiber Optic Sensing Products
FiberStrike® Fiber Optic Interrogator Applications
Perimeter and facility physical security – a distributed fiber optic intrusion sensor system for monitoring manholes, vault covers, long perimeters and fiberoptic border security.

Structural health monitoring – building, dam, and bridge monitoring – measuring strain and temperature.

Industrial health monitoring – intrusion protection as well as equipment monitoring for strain, fatigue, tension, temperature, and vibration.

Aero turbine and rotor health monitoring – fiber optic sensors to monitor temperature, component displacement, active surge control, strain, and vibration, on both rotating and static structures.

Composite materials monitoring – FBG sensors monitor the integrity of critical composite structures such as aircraft components.

Aerostructures – monitoring aircraft fuselage and wings for crack, strain, temperature, and vibration.

Pipeline leak & impact detection – acoustical sensors that monitor the flow through the pipe and detect leaks and impact events.

Traffic cabinet safety and infrastructure fiber optic cabling protection – FiberShear protects infrastructure fiber optic cabling during an accident or impact event.

Medical equipment monitoring – open/close monitoring provides intrusion protection for critical hospital areas as well as medical equipment monitoring for strain, temperature, and vibration.

Automotive EV battery monitoring and testing – monitor critical signals for battery health and driver safety with Fiber Bragg Grating sensors.

Environmental monitoring – high-accuracy, high-frequency distributed temperature sensing for hydrology, hydrogeology, and geophysics as well as fiber optic seismic sensor.