LCM-940 Pedestrian Sensing Platform
LCM 940 Pedestrian Sensing Platforms Brochure
The FiberStrike® LCM-940 pedestrian sensing platform uses UV light and fiber optic sensors to detect pedestrians in specific, secure locations, or restricted areas. The platform is a fiber-optic intrusion sensor system that can act as a "first alert" to trigger security cameras or alarms. The technology provides Point Detection Sensing to ascertain exact points of intrusion.
For example, fiber optic intrusion detection systems are used in railway, mass-transit, and sub-way platforms. The platform senses movements along defined paths, and intrusion detection along hallways or in front of doorways or hatches that access secure areas.
The Benefits of Fiber Optic Intrusion Sensors
The use of fiber optic sensors as a physical security solution has multiple benefits. The key feature of FiberStrike® systems is the response time to an event which averages at 1.5 seconds. Since the sensors are passive, non-conductive, require no electrical power, and emit no signal, the connection will not be disrupted if power is cut.  They cannot be bypassed without detection, and they are superior to traditional electro-mechanical sensors due to their resistance to electromagnetic and radio frequency interference, lightning, and corrosion.
The intrusion detection platform may be directly buried, providing the capability to determine the location of pedestrian and vehicle traffic intrusion events over distances of many kilometers. Intrusion event location accuracy is approximately equal to fiber optic loop length 100 for a single fiber. Accuracy improves with the use of multiple co-located fiber loops, making false alarms virtually eliminated by CEL's embedded, advanced designs and configurations.
Existing standard communications fiber infrastructures may be leveraged to connect a network of platforms, and multiple platforms may be leveraged to connect a network of platforms multiplexed over a single optical fiber while remaining individually addressable, simplifying the logistics and reducing the cost of installation.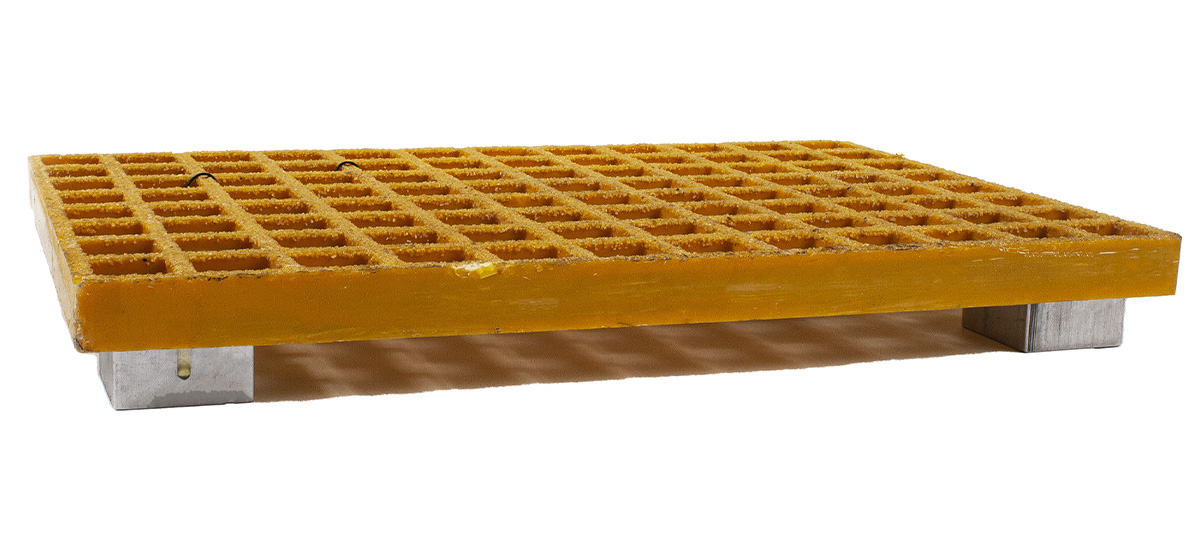 LCM-940 Pedestrian Sensing Platform
LCM-940 platform specifications
Performance Properties
LCM-940
Sensing principle
FBG strain change causes wavelength shift
Actuation method
Weight depresses platform surface
Sensitivity
1kg (7 oz.) weight minimum
Wavelength shift direction
Wavelength shifts longer when weight is applied to platform
Mechanical life
10,000,000 cycles minimum
Operating temperature range
-25°C to +70°C (-13°F to +158°F)
Optical Properties
Insertion loss
0.25dB per 2 ft (61cm) square
Wavelengths
FBGs at ≥5nm intervals, selected based on application
Reflectivity
>70%
FWHM (-3dB)
0.3nm (apodized grating, SLSR >15%)
Physical Properties
Dimensions
(unit standard size options)
Width: 2 ft or 4 ft (61cm or 122cm) Length: 2 ft (61cm) to 12 ft (365cm) in increments of 2 ft (61cm) Thickness: 1 in (2.54cm) Grid squares on 1.5 in (3.8cm) centers Custom intermediate widths, lengths and grids are available on special order
Mounting
Supported at perimeters, also at intermediate points as required by span
Weight load capacity (supports at 12 in / 30cm intervals)
Maximum recommended: 1350 lb/ft2 (6600 kg/m2) uniformly distributed load Ultimate capacity: 6750 lb/ft2 (33000 kg/m2) uniformly distributed load
Protection rating
IP-66 per IEC 60529
Platform material
Fiberglass-reinforced resin grid, slip-resistant grit surface, non-conductive
Fire retardant rating
Class 1, flame spread rate ≤25 per ASTM E84
Platform material color
Yellow standard; other colors available on special order
Cable type
Aramid reinforced pigtail, 3mm Ø jacket (two pigtails per platform unit)
Cable length
1.5m ±10cm (60 in ±4 in) standard; other lengths available on special order
Cable tensile load
Maximum 500N (110 lb) during installation, 300N (70 lb) operating
Cable bend radius
Minimum 29mm (1.14 in) during installation, 25mm (1.0 in) operating
Fiber type
SMF-28 compatible
Fiber coating
Polyimide
Connection method
Fusion splice standard; optional APC connectors on special order
Other FiberStrike® Physical Security Sensing Products
FiberStrike® FBG Sensor Applications
Perimeter and facility physical security – a distributed fiber optic intrusion sensor system for monitoring manholes, vault covers, long perimeters and fiberoptic border security.

Structural health monitoring – building, dam, and bridge monitoring – measuring strain and temperature.

Industrial health monitoring – intrusion protection as well as equipment monitoring for strain, fatigue, tension, temperature, and vibration.

Aero turbine and rotor health monitoring – fiber optic sensors to monitor temperature, component displacement, active surge control, strain, and vibration, on both rotating and static structures.

Composite materials monitoring – FBG sensors monitor the integrity of critical composite structures such as aircraft components.

Aerostructures – monitoring aircraft fuselage and wings for crack, strain, temperature, and vibration.

Pipeline leak & impact detection – acoustical sensors that monitor the flow through the pipe and detect leaks and impact events.

Traffic cabinet safety and infrastructure fiber optic cabling protection – FiberShear protects infrastructure fiber optic cabling during an accident or impact event.

Medical equipment monitoring – open/close monitoring provides intrusion protection for critical hospital areas as well as medical equipment monitoring for strain, temperature, and vibration.

Automotive EV battery monitoring and testing – monitor critical signals for battery health and driver safety with Fiber Bragg Grating sensors.

Environmental monitoring – high-accuracy, high-frequency distributed temperature sensing for hydrology, hydrogeology, and geophysics as well as fiber optic seismic sensor.