Executives from Cleveland Electric Labs visited SIA headquarters recently.
by Mickey McCarter, Manager of Communications in SIA Membership
Cleveland Electric Labs, a new member of the Security Industry Association (SIA), is on the verge of introducing an innovative new perimeter security product to the commercial security marketplace.
In a visit to SIA headquarters recently, Cleveland Electric Labs executives, including President Jack Allan Lieske and Vice President of Advanced Technologies Rodger Shepherd, described how their company assessed current perimeter security sensors and found them lacking. Many customers of existing solutions report unacceptably high rates of false alarms, the executives said.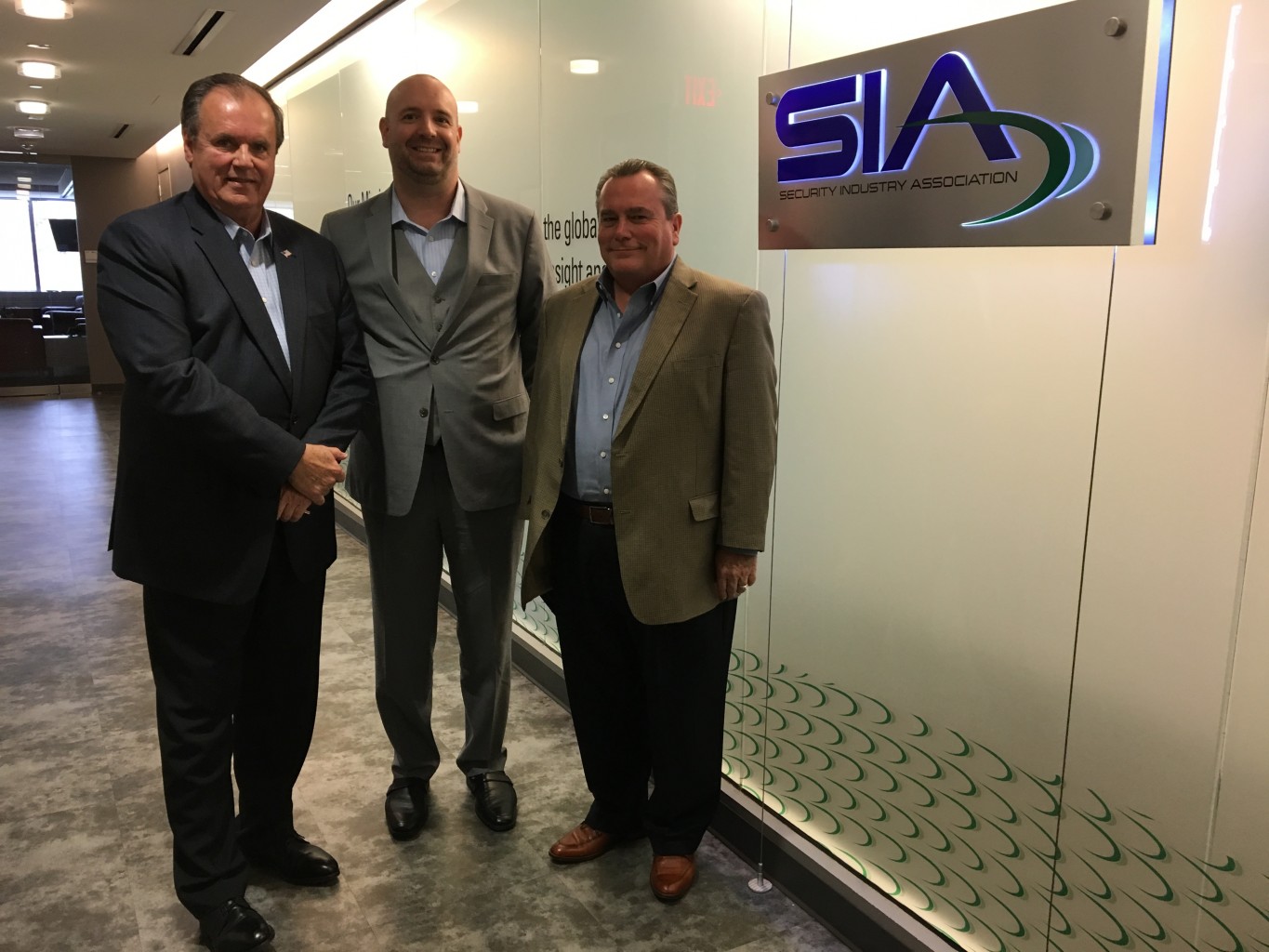 But eventually Cleveland Electric Labs was able to deploy its
fiber optic sensor tech
in a truly exciting solution.
"We immediately knew we could not try to follow anything like that same architecture," Shepherd told SIA. "So we worked very hard to develop completely different architectures that would give us different signatures."
The first method Cleveland Electric Labs began exploring was direct-buried fiber optic cable. The limitations of that approach became evident quickly, said Shepherd, as varying soil types and conditions affect the reliability of sensor readings. Soft soil makes it easy to detect footprints over the fiber optics while hard ground makes it difficult. Cleveland Electric Labs shifted its focus away from that effort, although the company continues to explore options.
The second method the company assessed was fence-mounted tech. Cleveland Electric Labs discovered it could make a breakthrough using this model. Without going into detail, Shepherd said the company's engineers were able to measure movement through their fence-mounted fiber optics in a way that would avoid false alarms such as strong wind blowing on birds landing on the fence.
Soon, Cleveland Electric Labs will unveil its first customer for its fence-mounted perimeter security solution. That same customer also purchased a buried fiber solution for detection of whether an intruder attempts to dig under a fence, a problem much easier to solve than detection of footprints across various grades and conditions of ground soil.
Cleveland Electric Labs, a 97-year-old company headquartered in Ohio, traditionally was involved in industrial temperature control sensor manufacturing, Lieske said. It provided sensors to longtime clients like Honeywell and Northrop Grumman among others. Eventually, Cleveland Electric Labs sold off some of its other legacy business and focused solely on sensors.
More than a decade ago, Cleveland Electric Labs acquired a partner in Phoenix, Arizona, and deepened its focus on small sensors and fiber optics. The acquisition of the Arizona company led to building a site at a University of Arizona research park in Tempe, Arizona. In the Tempe facility, the company built out its perimeter security business, employing about 40 people in that location to develop products, build them and as necessary install them. (Cleveland Electric is ready to work with integrators as well as complete installations itself.)
With its perimeter security solution nearly complete, Shepherd voiced confidence that Cleveland Electric Labs would be able to discern locations of intruders much more precisely than other products. With the completion of software development for the fence-mounted solution, Cleveland Electric Labs will start widely marketing the security package. The package will consist of a mid-range price product that will deliver exact location to clients, Shepherd said.
"We see a gap in what is available right now," he added. Many perimeter security clients have turned off their solutions to cut down on false alarms.
That could eventually lead to disaster at critical hubs like airports. In the case of U.S. airports, the 31 highest volume airports have experienced more than 250 intrusion attempts since 2011, whether trespassers were attempting to cut through, drive through or climb over perimeter fencing.
"We are not taking any product to market that is going to be susceptible to the same problems as existing platforms," Shepherd vowed.