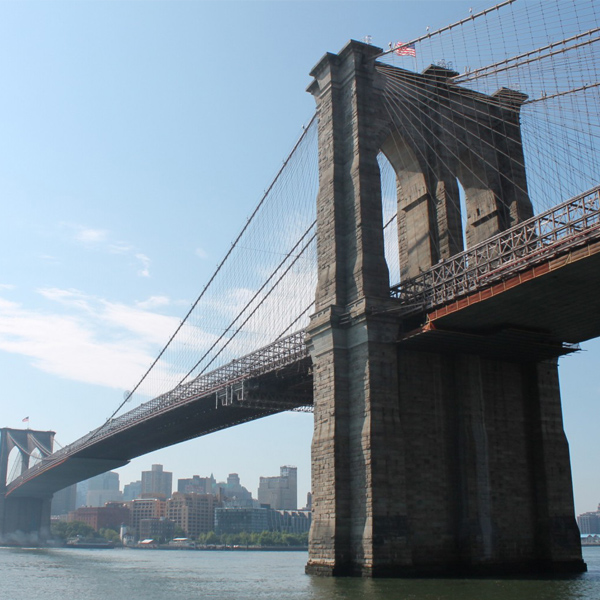 Downloads
Optical Sensing Solutions for Bridges Brochure
Additional Resources
About The Bridge
The Brooklyn Bridge was built in the late 1800's and was engineered by John A. Roebling, Washington A. Roebling, and Emily Warren Roebling. It is the first bridge to use pneumatic caissons and the first steel cable suspension bridge. The bridge is located in Manhattan, New York. The customer, University of Illinois at Chicago (UIC) chose Chandler Monitoring Systems Inc. as the system integrator. The project was completed in two phases in January and February 2009.
The Brooklyn Bridge is considered to be the most influential bridge in United States history. One of the oldest suspension bridges in the nation, it was the first bridge to use galvanized steel wire for cable construction, resulting in an unprecedented 1,595-foot (486 m) main suspension span across the East River. When the bridge opened in 1883, it was the longest bridge in the world and fifty percent longer than any bridge previously constructed.
Objective
The goal of the project was long-term monitoring of the structural Health of the old masonry building on the Manhattan side of the bridge. The Brooklyn Bridge consist of large masonry buildings for support (figure 1). They are made of granite, concrete, stone, masonry and wood. These buildings are 125 years old and are beginning to show cracks from stress due to contouring and settling of the changing environment.(figure 2). Crack (figure 3) (figure 4) and corner sensors(figure 5) were installed to help monitor this. Also we installed accelerometers and tilt meters (figure 6). Tilt Meters are designed to measure small variations of angle towards the vertical without the need for temperature compensation. To monitor the activity of all these sensors we have installed an accurate and easy to use ENLIGHT Sensing Analysis Software (figure 7).
Equipment Instrumentation
(1) sm130 Optical Sensing Interrogator
(1) sp130 Sensing Processor Module
(1) sm041-016 Sensor Channel Multiplexor
Sensors
(7) os4100 Temperature Compensation Sensors
(8) Fiber Sensing, Tilt Meters
(5) Accelerometers
(16) UIC Crack Sensors
(5) UIC Corner Sensors
FBG Technology Benefit– Easy to use software and multiplex capabilities of sensors.